QlikView
is one of the most powerful and popular business intelligence platform in the market today. It has a really powerful interactive interface, data massaging module and rich set of charts, reports and graphs which can help you to create almost all types of business intelligence dashboards you need.
Although complex QlikView dashboards may require some experience and IT skills, one do not need these two to benefit QlikView. With a very short learning curve, you can easily start to create powerful dashboards on your own. To do this, you can follow online QlikView videos, free QlikView training modules as well as regular QlikView classroom trainings in your area.
You can also join a hands on QlikView workshop to kick start your QlikView experience. Knowledge Management Solutions, a QlikView partner based in Singapore (with offices in Kuala Lumpur, Bangkok and Jakarta) is regularly conducting
QlikView hands on workshops in Singapore
to introduce QlikView to business users. Open to every business executive who are struggling to make sense of their data with traditional BI tools and plain old MS Excel, these 4 hours workshops are very popular and easy way to start your QlikView experience.
The next QlikView workshop (the company also calls them QlikView apps build sessions) will be on June 18th 2015 between 09:30 AM and 13:30 PM. In this workshop, participants are required to bring their own laptop where they download and install QlikView free desktop edition. This free QlikView desktop addition does not expire so whatever you create can be used personally on the laptop.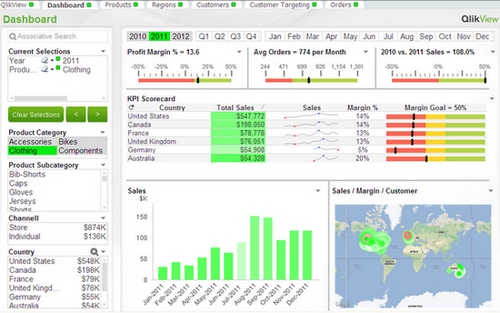 QlikView is one of the most powerful business intelligence and analysis platform in the
market today.
In this workshop you will learn how to bring in data to QlikView, create your very first QlikView dashboard, master QlikView's unique associative experience and enhance your dashboard to create multi-view, multi dimensional BI applications to drill-down and slice-and-dice among your data to do data analysis.
You can register the event here :
Knowledge Management Solutions Free QlikView Singapore Workshops Registration
. The event will be at
Singapore Management University
. If you cannot make it on that day, do not worry. Just register and when you receive an email from the company with a request to be informed about the next QlikView workshops.